Winter Park Real Estate Has Best Year Ever in 2017
Winter Park Real Estate is up 32% in Sales and 10% in Units Sold for the year of 2017 compared to 2016. The Average Sales Price increased 21%. All sectors were up significantly with Residential leading the way.
In the Residential Sector (Single Family Homes, Duplexes & Townhomes) for the year the Number of Sold Listings is up 22% and the Dollar Volume of Sold Listings is up an almost unbelievable 47% over 2016. The result of this is that the Average Price is up by 21%.
The Condominium Sector showed mixed results. The Number of Sold Listings is down 10% but the Dollar Volume of Sold Listings is up 2%, thus producing an Average Sales Price increase of 14%. There were less condominiums on the market this year so the lower number of sales is not surprising.
Vacant Land Number of Sold Listings is up a significant 51% compared to last year while the Dollar Volume of Sold Listings is up an incredible 78%. This continues the trend of more expensive lots being sold with the effect that the Average Sales Price is up 18%. Vacant Land is still a small portion of the overall sales dollars (about 6%) but it is nice to see this number rising as it means there is more confidence in the market.
Total Sales are $274 million for the year compared to $207 million for all of last year. This makes 2017 the best year ever, easily surpassing the old record of $244 million in 2006.
2018 will be an interesting year as inventory is very low and prices continue to rise. There is increased competition for desirable properties and many go under contract the first week they are on the market, often at list price or even higher.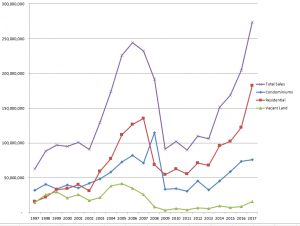 A full copy of the Winter Park Real Estate Year-to-Date Report is available by emailing me at Paul@PaulLewis.net. You can always see all the MLS listings at www.WinterParkRealEstate.NET
This report was created by Paul Lewis with statistics that were compiled from data from the Grand County Board of Realtors & are deemed reliable but not guaranteed.
Winter Park Real Estate Has Best Year Ever in 2017