Town of Fraser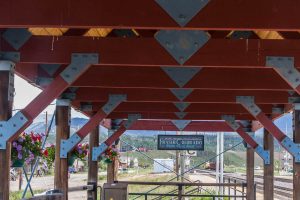 The Town of Fraser is contiguous to Winter Park, but a world apart in attitude. Unlike Winter Park's tourist oriented demeanor, Fraser, with its sizable population of "locals", has a much more down to earth feel (although the sign as you enter Fraser used to say "Now Leaving Planet Earth"). It has been called the "Icebox of the Nation" as the temperatures along the Fraser River often drop to the lowest in the United States. Fraser has many attractions, including the Fraser Valley Rec Center, two tubing hills, the Fraser Sports Complex and the Hi Country Stampede Rodeo.
The Town of Fraser has a year round population of 910 people which grows considerably in the summer & winter.
In addition to the older part of town, it is home to some of the newer subdivisions such as Rendezvous and Grand Park. Outside the town limits but still considered part of Fraser, there are a number of subdivisions and condominium complexes.
Subdivisions in the Town of Fraser & surrounding unincorporated area include Beaver Mountain Preserve, Byers Peek Townhomes, Cabins at Porcupine Ridge, Diamond Bar T Ranch, Elk Court Cabins, The Enclave, Four Way Estates, Fraser, Fraser-Eastom, Frosty Acres, Fraser-Ptarmigan, Grand Park, Grandmother Millers Tracts, High Lonesome Trail, Icebox Estates, Iron Pony Townhomes, Meadow Ridge Lodges, Moose Creek Townhomes, Moose Run, Mountain Homes at Sundance Pointe, Mountain Homes at The Reserve, Mountain Terrace Townhomes, Ptarmigan Park Townhomes, Ranch Creek Estates, Ranch Creek Ranch, Rendezvous, The Reserve at Elkhorn Ridge, Sky View Acres, Spruce Ridge Townhomes, St Louis Creek, Stagecoach Meadows, Sun River Townhomes, Talley Ho Ranch, Trestle Townhomes, Waterside West, Victoria Village, Winter Park Ranch, Metes & Bounds, Subdivision & Outright Exemptions and Other.
For more general information about Fraser real estate, go to Fraser real estate page
Click here for Fraser Homes, Townhomes & Duplexes
Click here for Fraser Vacant Land
Condominium complexes in Fraser include Acadia, Alante Vista, Arapahoe ridge, Barvarian Village, Bird Nest, Cozens Pointe at Grand Park, Crooked Creek, Divide at Forest Meadows, Eagle Nest, Elk Creek Village, Four Seasons, Fraser-Ptarmigan, Fraser River Townhomes, Grand Park, Indian Peaks, Lookout Village, Meadow Ridge, On the Meadows, Pines at Meadow Ridge, PowderHaus, Ptarmigan, Ptarmigan Bend, Ptarmigan Hills, Rhovanion, Townhomes, Ridge at Meadow Ridge, Silvercrest, Sterling Pointe, Sun Song, The Timbers, Town of Fraser, Tumbleweed, Twin River, Wapiti Place, Waterside West, West Portal Place, Winter Park Lodge, Winter Park Ranch, Winterstar, Wolverine Ridge, Winter Park Tennis club and Other.
Click here for Fraser Condominiums
Some Photos from the Backstreets and Yards around the Town of Fraser & nearby:[Best_Wordpress_Gallery id="2″ gal_title="Fraser Downtown"]