Winter Park Ski-in and Ski-out properties offer an excellent value for visitors who want the convenience of being right at the slopes.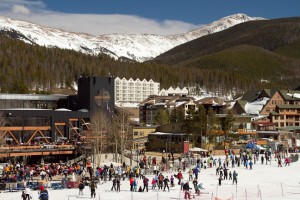 Condominiums
This page includes the Winter Park Ski-in and Ski-out condominiums at the base of the ski area, The Village at Winter Park (Zephyr Mountain Lodge, Founders Pointe/Fraser Crossing, The Lofts at Winter Park) and Iron Horse Resort.
Zephyr Mountain Lodge is actually two buildings (Slopeside & Riverside) that were the first two buildings in the development at The Village at Winter Park. It opened in 1999 and is the closest property to the slopes. Fraser Crossing & Founders Pointe are the second two buildings in the long range plan for the base village. They are the two newest buildings at the base of Winter Park and just a short walking distance to the slopes. Iron Horse Resort is a full service resort with many amenities just above the base village that accesses the ski mountain directly on the Corridor Trail between Mary Jane and Winter Park. It is the original ski-in/ski-out resort at Winter Park, with four buildings constructed in the 1980's.
Click Here for Winter Park Ski-in/Ski-out Condominiums for Sale
Homes & Townhomes
Also Ski-in/Ski-out are the luxury townhomes of Base Camp on Jane Creek and the exclusive single family homes at Bridgers Cache.
Click Here for Winter Park Ski-in/Ski-out Homes & Townhomes for Sale
Click Here for Winter Park Ski-in/Ski-out Vacant Land for Sale